Puchang Vineyards
China, Xinjiang, Turpan Valley
Very much an oasis in the middle of the desert, Puchang is one of the gems in the world of wine with a sight so uncommon, it can never be seen elsewhere! 
Puchang was first established in 1975. In 2008, Hong Kong businessman, Mr K.K. Cheung purchased the estate, giving it a new direction as one of the first organic wine producers in China. The winery now comprises approximately 100 hectares of vineyards which produce up to 130,000 bottles each year.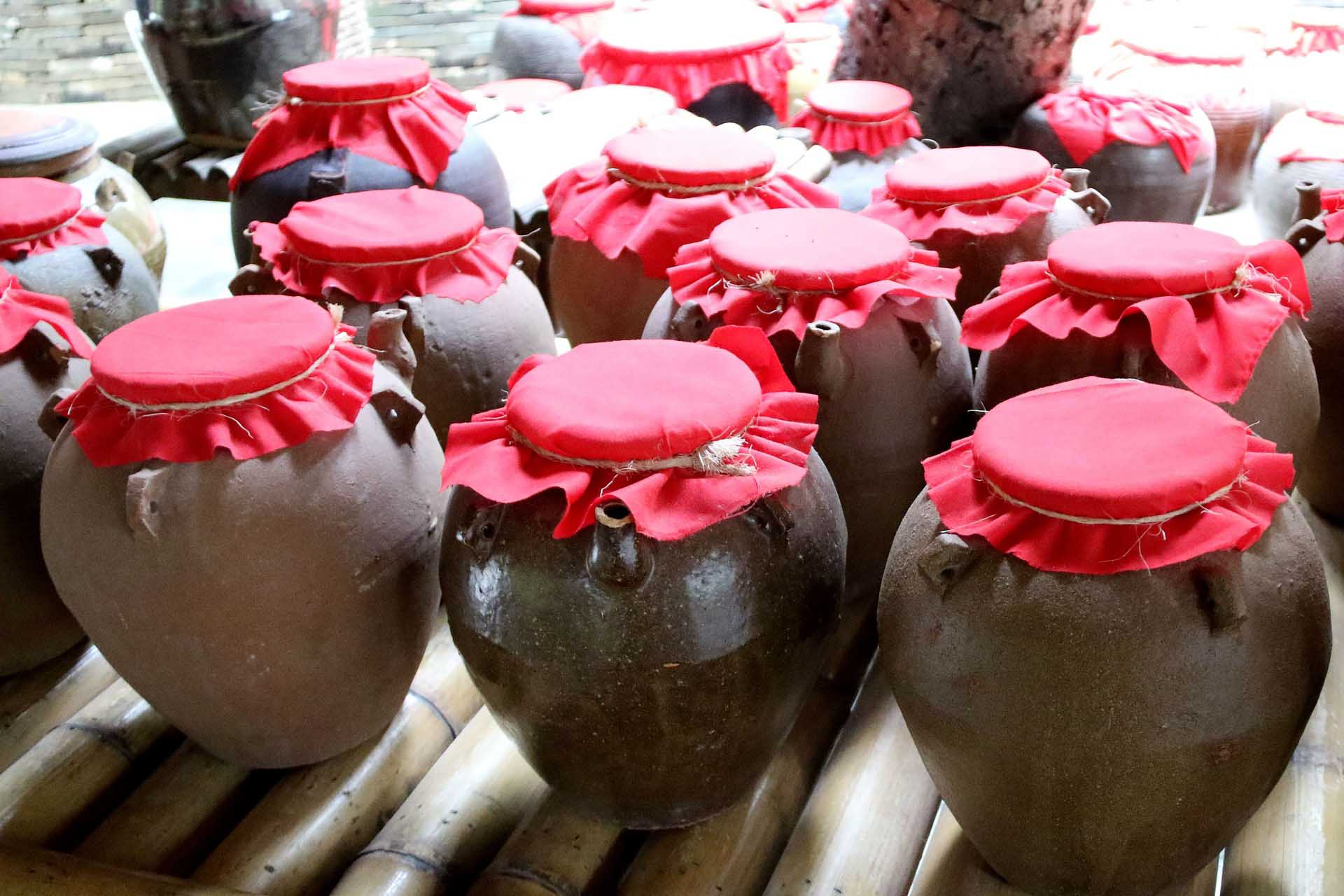 The Story of Chinese Wine
China and wine aren't necessarily synonymous. The country is better known for Baijiu
, a grain-based distilled spirit, but in the past few decades, China's started to emerge as a wine force to be reckoned with. Now the world's sixth largest wine producer, it's working to make a name for itself and a reputation as your go-to wine region.
Along with its contemporary accolades, China can claim the title of being the spot of the first drink in history. In 7000 BC, the 

earliest grape-based alcoholic drink

, which also happened to be the earliest alcoholic drink ever consumed, was discovered in the Henan province. But despite its early presence, around 130 BCE, wine was dethroned by booze from other sources, including sorghum, rice, and lychee. 
And then came 1980. China, undergoing economic reform, saw a surge in development, both economic and of a middle class. And what is the perfect status symbol for new money? The answer is wine, and the Chinese consumers were distinctly aware that nothing pairs better with luxury cars or haute couture than the finest Bordeaux and Burgundy.
In the years since, China's pursuit of wine domination has been met with rapid success. It now boasts more than 3,000 square miles of land dedicated to vineyards — that's the second-largest wine area in the world, trumping vino kingpins like France, Italy, the United States, Australia, and only falling behind Spain. But China hasn't settled for coming in second: in 2013, consumers outranked France as the
 

biggest market for red wine, knocking back 1.86 billion bottles in one year.
The story of China's wine industry is one that is constantly evolving. Experts predict the next few years will see a rise in upmarket Chinese wine, and a shift as Chinese consumers start to reach for domestic products. Given the industry's rapid rise in just the past few years, it may not be long before you're reaching for a bottle from Shandong instead of Bordeaux.
Xinjiang and Wine Production
Xinjiang
 is China's largest administrative area, located in the north-west corner of the country. It has traditionally been associated with agriculture based on wheat and fruit, but a significant modern wine industry is springing up here in the dry, desert-like 

terroir

.
Officially classified as an autonomous region, Xinjiang covers 1.6 million square kilometres (640,000 square miles). This makes it larger than the US states of 

Texas

 and 

California

 combined. Much of this area is either desert or mountain, and Xinjiang is cut neatly in two by the Tian Shan mountain range. It is along the southern edge of these mountains that most viticulture takes place, particularly surrounding the cities of Turpan and Bayingol.
Today, Xinjiang is the largest region for wine production in China, in terms of geographic size. The primary viticulture focus of Xinjiang is sweet wines, due primarily to the local climate. The region is also known for its grape and raisin production. Xinjiang's climate is truly continental: the region contains the point on land that is furthest from any ocean. It is officially classed as a semi-arid desert climate on the Koppen climate scale and is characterized by hot summers and very cold winters. Ample sunshine during the growing season ensures the grapes can reach full ripeness, and the low annual rainfall means that there is little pressure from fungal vine diseases.
The Puchang Story
Probably the biggest misconception is that most people believe that China is not a winemaking country and lacks experiences in viticulture and winemaking.
This is what Puchang Vineyard strives to eradicate. The winery is committed to offering premium wines from local varietal grapes found only in Xinjiang, planted and cared for under the strictest of organic management.
Located in the heart of Xinjiang, near the Tian Shan Mountain, Puchang Vineyard shares the same latitude with some of the best wine-making regions in the world, Bordeaux for instance.
The weather here is so extreme and there are few pests in the vineyard. The vineyard's soils
 are irrigated by the melting snow from the Tian Shan Mountain. Untouched by men and free from pollution, the water channels through the underground Karez water system to their vineyard, keeping the water source naturally pure. This was the same channels that were used to bring water to the ancient silk road of Turpan.
The winery is run by Italian Loris Tartaglia with help from Gerard Colin, consultant at Ch. Lafite Rothschild.
Winemaking
Puchang focuses on organic viticulture and winemaking with unwavering dedication and care under quality management. Since 1991, the winery has received be certified organic by ECOCERT. 
The team at Puchang handpicks and manually sort all grapes. Each yield is closely monitored, ensuring that each plant maintains its integrity with structural complexity and strong concentration.
To ensure optimal balance between acidity, sugar and pH value, each varietal is also analyzed in a laboratory on a weekly basis once the skin turns colour. As a result of such combined efforts, they are able to create well-balanced and flavourful organic wines that fully reflect the landscape of Xinjiang.
Rkatsiteli 2017
Made from one of the oldest grape varietal that originated from Georgia, the Rkatsiteli shows attractive aromas of white fruits such as peaches and pears. On the palate, the wine is crisp and round with refreshing acidity and minerality.
Beichun 2015
The Beichun is a hybrid between wild grapes from Jilin Province in China and Muscat from Xinjiang. A unique variety with high sugar levels only grown in Xinjiang, this wine shows beautiful aromas of red fruits, rose, vanilla and cinnamon spice. On the palate, it presents a silky and consistent texture with notes of ripe red fruit, dried raspberry over a soft and balanced finish.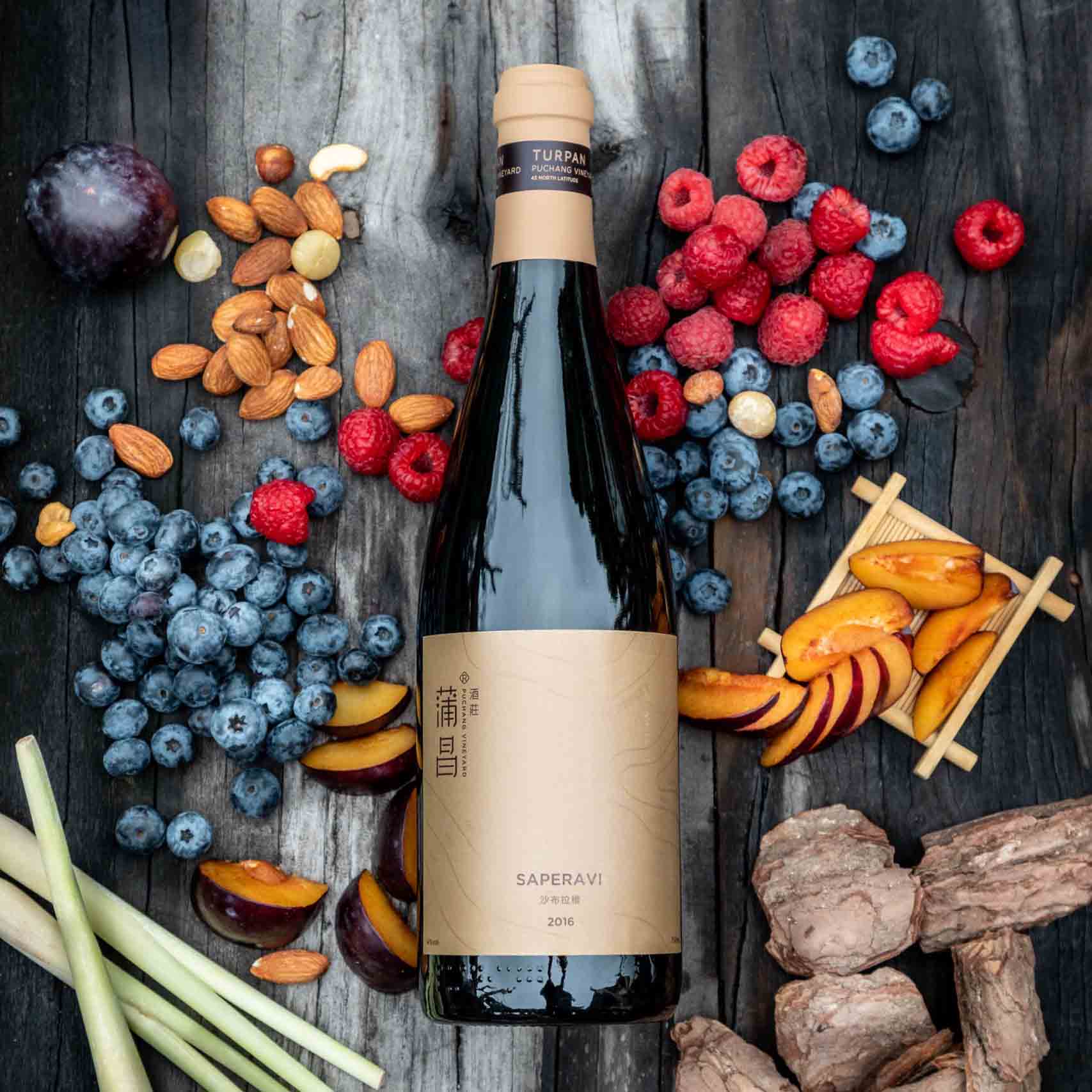 Saperavi 2015
An ancient grape from Georgia, the Saperavi is a dark-skinned Teinturier varietal that's high in acid and flavours. The wine shows notes of plum, spices over a hint of liquorice on the nose. It is dense with juicy black fruit notes (sour cherries & plums) on the palate. A brilliantly balanced wine with smooth texture.