Mousseux is the French word for "sparkling", and Vin Mousseux (pronounced vaan moo-su) is the general term used for bubbly that is neither Champagne nor Crémant. It is made by a variety of methods, including the traditional method; méthode ancestrale (ancestral method in French, which is the oldest method allowing bubbles to form naturally in-bottle during the second fermentation without the addition of sugar and yeast); or the Charmat method (first fermentation process in a barrel, followed by the second one in a tank).
Also made in the key wine regions across France, Vin Mousseaux production is regulated by regional governing standards called AOC (Appellation d'Origine Contrôlée) which represent each locale and its wine types. In fact, the first sparkling white wine ever produced in France is the Blanquette de Limoux of Languedoc-Roussillon by Benedictine monks circa 1500. Made chiefly from the Mauzac grape with some Chardonnay and Chenin Blanc, it is today produced under AOC Blanquette de Limoux.
Other familiar examples from the Loire region are the sparkling whites of AOC Saumur Mousseux featuring chenin blanc, chardonnay and sauvignon blanc; and the famous rosé bubbles of AOC Anjou Mousseux made from a blend of cabernet grapes, gamay, grolleau, malbec and pineau d'aunis.
Considering the sheer number of wine appellations and estates in France, the character of Vin Mousseux can range widely. An example of a unique mousseux is the Domaine Le Fay d'Homme Vin Mousseux Brut X Bulles NV, which comes from a five-generation wine-growing estate in appellation Muscadet Sèvre et Maine, also in Loire.
Vincent Caillé (pictured above) who took over the family vineyard in 1986, is part of a new generation of wine-growers who decided to pursue a policy of uncompromising quality. With great passion, he produces Muscadet Sevre et Maine of high expression on different types of soils. Grown organically since 1996, his vines blossom on living soils that have recovered their wild tulips, a protected species affected for a long time by chemical treatments in the region. Vincent Caillé is one of the few winegrowers from Nantes who produces organic Muscadet – an exceptional feat due to the oceanic climate and the propensity of Melon to welcome mildew. In the cellar, he vinifies his wines in the traditional way with indigenous yeast and long ageing on lees.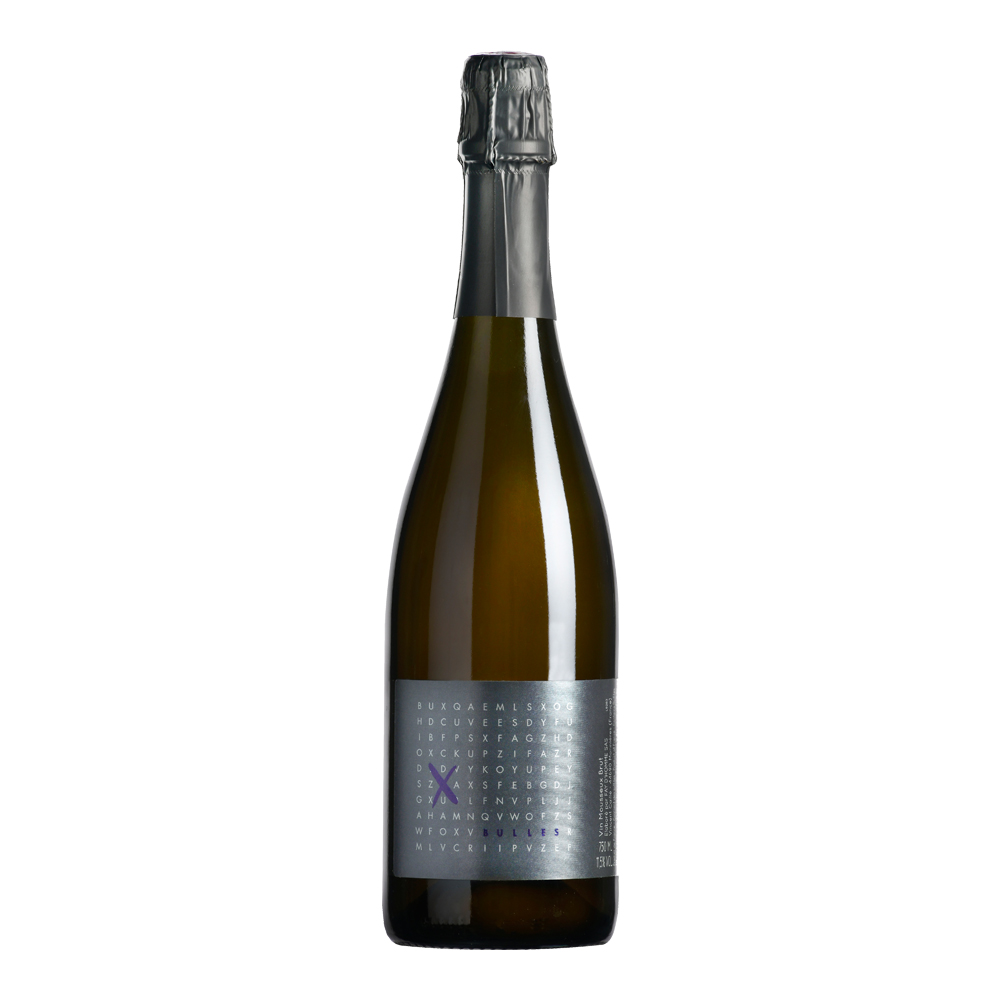 Domaine Le Fay d'Homme Vin Mousseux Brut X Bulles
Made with 90 per cent melon and 10 per cent côt which comes from a vineyard grown at an altitude of 50 – 100 metres and a bed of gneiss soil, this Vin Mousseux is a beauty.
This organic & biodynamic wine is made using a natural "ancestral method", where it is the grape sugar that ensures fermentation, secondary fermentation and residual sugars. After the harvest, grapes immediately go through pressing and racking overnight. Fermentation then begins in temperature-controlled tanks without the addition of exogenous yeasts. Light filtration during fermentation before bottling, which allows secondary fermentation in the cellar. The wine is finally disgorged when it reaches balance.
The result is an interesting one! It is not a rosé, yet there is an ever so slight perception of colour – an idea of orangeness, perhaps coming from the 10 per cent cot (malbec). A wine fresh in salinity, stone fruits and minerals, it drinks of its close proximity to the Atlantic. It is also a wine for celebration and one that pairs exceptionally well with your savoury meals and light desserts alike!
Article was adapted from Prestige Online, by Chief Editor Yanni Tan