Wine Ageing in a Nutshell
"Aged for 12 months in new oak barrels"
"Fermentation in stainless steel at low temperatures" 
We hear these terms a lot in the world of winemaking. But what does these actually mean?
Properly ageing wine is a critical aspect of winemaking. Without some measure of ageing, most wines would be rough around the edges and fall far short of their full potential. Ageing wine is a complex enterprise, with different wines requiring different materials, techniques, and lengths of time to arrive at their peak. 
Once wine has been fermented, it's ready to be transferred to an ageing vessel. This is typically an oak barrel, although other options exist, including stainless steel, amphorae, and concrete. Different materials have their application, depending on the desired qualities in the finished wine.
Read on as we explore the intricate impacts of oak ageing in wine, the Burgundy Chardonnay and how climate change is challenging the norm.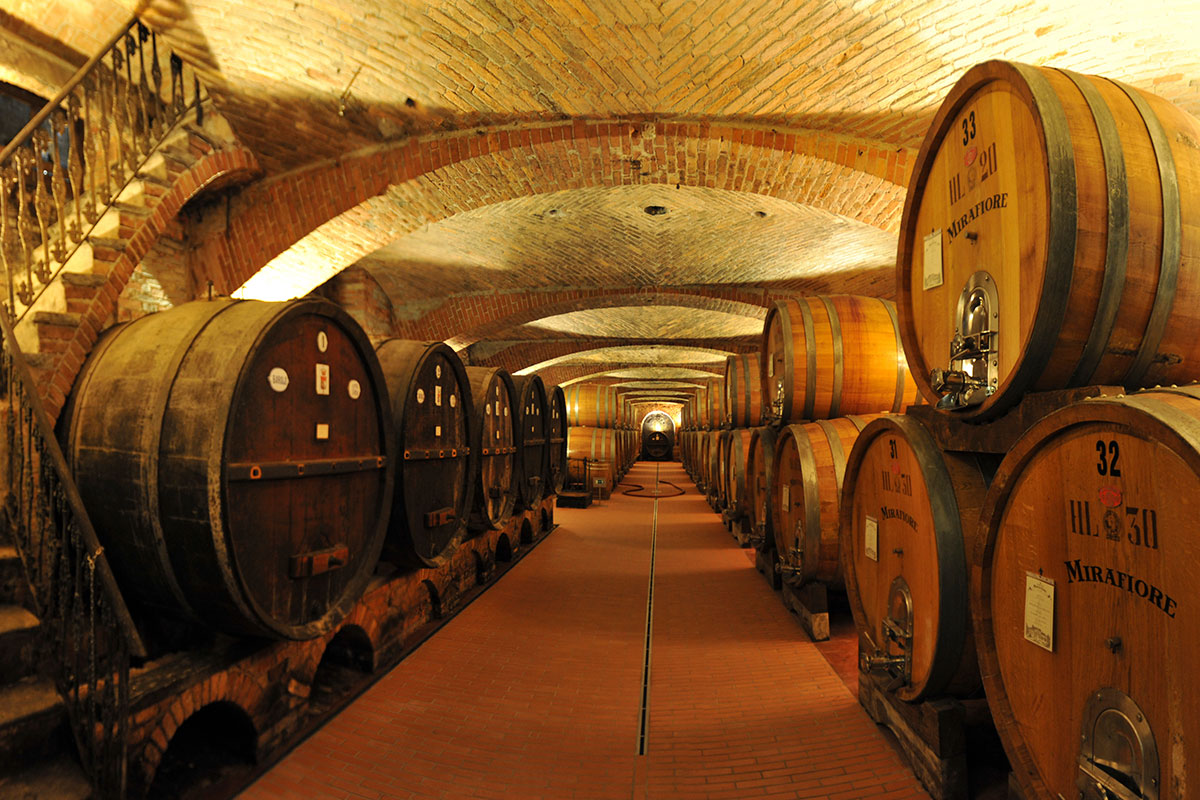 Oak and Wine
Oak enjoys a long tradition in winemaking. Oak barrels are slightly permeable to oxygen, allowing desirable oxygen ingress, which helps flavours and aromas to develop a more mature, complex character. New oak barrels are almost always toasted by fire to enhance the aroma and flavour compounds naturally present in the wood that are imparted to the wine, such as vanilla, caramel, and butterscotch. They also contribute wood tannins to the finished wine that can be softer and smoother than

grape tannins

 and are often associated with spicy notes or creamy hints on the palate. Heavily toasted barrels can even impart such strong aroma and flavour components as coffee grinds or bittersweet chocolate to the finished wine's aroma or flavour.
Different types of oak yield different flavours and aroma profiles. American oak tends to be more forward, with stronger, sweeter notes that have a greater aromatic impact. French oak leans toward a more subtle impact that is mainly on the palate, with silkier tannins than American oak.
The age of the oak comes into play as well. Oak barrels may be used more than once, contributing less flavour and aroma to subsequent wines. After several uses, the barrel may not have any more aroma or flavour to give up, at which point it can be considered "neutral" – a vessel that will contribute little to no flavour or aroma to an ageing wine but will still allow the wine to age and develop in an aerobic environment.
Oak Ageing and Chardonnay
Winemakers craft Chardonnay in oak barrels to create additional flavour complexity and textural interest. They can do this because Chardonnay is one of the most malleable white wine grapes. The affinity between 

oak and Chardonnay

 is so great that oak flavours are often taken as a marker for the grape itself. 



The thrilling 
thing about Chardonnay grown in Burgundy is that it can express a sense of place and terroir. Even in winemaking, where traditionally, oak plays an important role in giving the Chardonnays here a certain exclusivity and prestige.
Montrachet, Puligny-Montrachet, Chassagne-Montrachet, Meursault and Corton-Charlemagne are some of the most famous names. Typical Meursault tends to be butter-golden and a little heavier and earlier-maturing than a typical wine from 'The Montrachets' which has a leaner, purer, and more nuanced character capable of developing for up to a decade in bottle. The Corton-Charlemagne can be nutty, almost almond-flavoured. But typical burgundy hardly exists. Wines here are made with exasperatingly varied levels of skill, so that one winemaker's basic Bourgogne Blanc, the most basic appellation, might be better than another's Montrachet. 
Unoaked variants of Burgundy Chardonnay includes the Bourgogne Blanc, Chablis and Maconnais Village wines. 
The Mâconnais tends to produce a more New World style of Chardonnay: plump, open, easier-drinking wines that exude a fresher and crisp character.
Most of these wines are produced to be drunk fresh, within two or three years of the vintage.
Global Warming in Burgundy
Climate change is rapidly altering wine as we know it. Wine grapes are extremely sensitive to climate and this is much of what makes wine so exquisite. But it also means wine grapes are extremely sensitive to climate change. The gradual change in climate affects the speed at which grapes grow and when they can be harvested. Winemakers will have to be adaptable with every vintage, with plenty of factors affecting their desired results. 
Wine, in Burgundy, is built into the fabric of the culture. The Pinot Noir and Chardonnay grapes the region is known for have been growing there and adapting to the precise climate conditions of the region for centuries. But these days, it is
 getting hotter in Burgundy – that much is clear, from data analyses and personal testimony.
2020 marked 
the earliest grape harvest ever in Burgundy. The first grapes were picked there on 12th August and the harvest was well underway by the third week of the month. It used to start a good month later.
In the hot, dry summers to which Burgundians are becoming accustomed, the problem of sunburned grapes challenges growers who struggled to ripen them less than a generation ago. On arrival at the cellar, the crop used to be sorted for grapes that had rotted in the rain. These days, those at the sorting table need to pick out all the scorched grapes. The ever-changing impacts of global warming are affecting viticulture on a daily basis, and this only emphasizes the need for winemakers to display flexibility and versatility in their craft.
Oak Ageing and Climate Change
Climate change is also challenging the winemaker's artistry back in the cellars, where most of the work is done after harvest. Oak ageing has been quite the norm in most of Burgundy's Chardonnays. The use of oak gives these prestigious Chardonnays that added layers of complexity and ageing potential, which is why they are quite the collectors' item.
The norm of oak ageing is being fervently challenged today. The Chardonnay grapes get riper earlier as a result of the warmer climate. Riper grapes tend to give the resultant wine a heavier body, and more often than not, developing a higher alcohol content.
Ageing these wines in oak could give them an overwhelming body, and a style that most Burgundian drinkers are not accustomed to. Hence, to balance out the complexity of flavours, we discovered that winemakers are slowly steering away from oak ageing in their prized assets, especially in warmer vintages. After all, winemakers are in pursuit of showcasing the full essence of terroir with their creation – ageing their wines in oak could completely mask them out.
Whether if this winemaking trend is here to stay remains a conundrum. Though we shouldn't be surprised to hear a maker producing an unoaked Meursault Chardonnay. So in today's context, does a lean unoaked chardonnay reflect a cheaper wine? We beg to differ as we take a deeper look at what is happening in Cote de Beaune today…
Going Deeper: What is Happening in Cote de Beaune?
Being a Wine Distributor means we get to taste a whole load of wines (in their fresh vintages) regularly and in the process, discovering winemaking trends that perhaps have not reached the consumer's table.
Our team of experienced professionals had recently come across a riveting winemaking movement in Cote de Beaune (Meursault, Chassagne & Puligny Montrachet), and more specifically, in producing top-end Chardonnay wines.
After tasting Chardonnays from several producers, we discovered that most (if not all of them) were barely oaked and giving a lean expression. This is very much unlike their usual style that would normally justify their prestige and price premium.
Bewildered, we set on a discovery journey through interviews with several esteemed professionals in the wine scene, including MW Annette Scarfe, to dig deeper…
Questions we had in mind:
1) Were styles of winemaking going back to the traditional and ancient style? Back to the time of the monks who probably could not afford the exorbitant cost of new oak
2) Did we simply and coincidentally tasted wines that were leaner in style?
3) Could this be linked to the natural wine movement where producers are letting nature do most of the work and allowing their wines to show the essence of terroir?
It turns out the exploration of leaner styled Chardonnays were pioneered in the 1990s, as a counter-reaction to Robert Parker's rave over the style of muscular and oaky Chardonnay. Jean-Marc Roulot, an esteemed character in Meursault, decided to produce wines that were terroir-focused, essentially giving rise to wines of freshness, precision and not masked by oak. Older oak barrels were mainly and sparingly used as a vessel to give the wine structure for ageing, he explains.
As an influential figure in the Burgundy wine scene, naturally, several other winemakers followed in his footsteps. Especially the younger generation who had a keen vision of exploring what their own terroir had to say.
This, combined with the impact of Global Warming, has had a considerable impact on the Burgundian Chardonnays of today. Winemakers face new challenges and decisions such as earlier grape picking, shorter ageing, less batonnage, determining the amount of oak influences among many others.
Be that as it may, we laud winemakers who continue their pursuit of terroir-driven wines, even at the expense of challenging the accustomed consumer-driven wine styles.
Check out our curated selection of artisanal craftsmen who are pioneering innovative winemaking approaches in modern Burgundy!