Cabernet….Chardonnay…. There's a reason these tried and true varietals are the most popular in the world. 
The distinctiveness of grape varieties and geography can offer something different on the palate each time. At TWDC, we find it thrilling how winemakers are experimenting with the lesser-known, niche grape varieties. Peculiar grape varieties forge the foundation for many fabulous creations.
With thousands of different varieties in existence, 
it's definitely worthy to venture outside your wine-tasting comfort zone now and give some of these uncommon wines a try! 
Let's have a look beyond the common and usual grapes and dive into some of the oddball grapes which had made their way onto our portfolio.
Assyrtiko
Assyrtiko is Greece's most striking white grape, used for both dry and sweet wines. It hails from the Cyclades island of Santorini and covers 65% of its vineyard area, where many vines are ungrafted and vary in 

age from 60 to 250 years. On this windswept volcanic isle, the roots of the 

Assyrtiko

 vine can reach up to 18m in the black, ash-rich soil, giving the resulting wines great minerality. The vines are uniquely trained in ground-hugging, basket-weaved fashion to minimise wind damage during flowering, as well as grape sunburn. 
Assyrtiko is made for people looking for unconventional, intense styles of whites, that lean towards texture and density. It offers sensations that are well away from the average, "commercially appealing" dry white. Very food-friendly, especially with grilled fish and seafood. All Assyrtiko wines, both barrel-aged and stainless steel matured, can age confidently for five or even ten years, sometimes significantly more.
General Style of Assyrtiko:
– Yellow-gold in colour
– Mineral
– Aromas & flavours of Pear, Apple, Citrus blossom
– Naturally high acidity
– Able to age for many years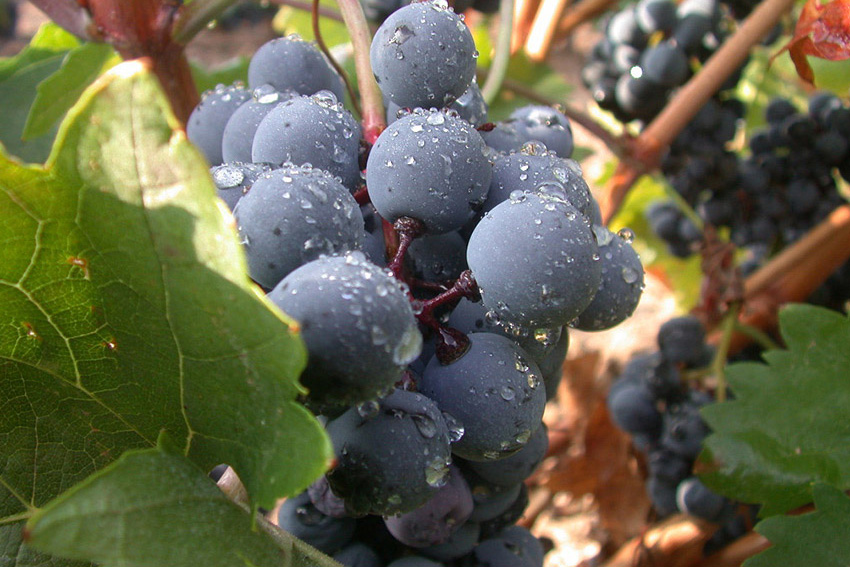 Mavroudi
The 

Mavroudi

 variety owes its name to the dark and almost black colour of its berries (Mavro means black). This dark colour is also the reason why 

Mavroudi

 is used mostly in the production of dark red wines, though they remain rare.
Originating from Bulgaria, the Mavroudi is now mainly grown in the Peloponnese and northern regions of Greece.
The low-yielding, late-ripening vine produces small, almost black grapes with thick 

skins.

 They have pronounced 

tannins

 and excellent 

acidity

, with an abundance of stewed-fruit flavours on the palate giving a sweet-tasting mouthfeel. The grape also has a herbal characteristic, sometimes giving Mavroudi wines a medicinal finish. These wines certainly do not lack character! 
General Style of Assyrtiko:
– Heavy and strong aroma
– Intense body with forest fruit and herbal notes
– High acidity and robust tannins, with a long-lasting aftertaste
-Pairs well with veal, smoked ham, and grilled cheese
– Mid-term ageing for wine to reach it's true potential
Melon de Bourgogne
Melon de Bourgogne
 is the white grape synonymous with the 

Muscadet

 appellation in the western 

Loire Valley

. The grape was introduced to the region in 1709 after a vicious winter killed many of the Loire's vines, around the same time it was expelled from its home in Burgundy. What the Dukes of Burgundy regarded as an overproductive variety of little viticultural interest, growers in the Loire saw as the cold-resistant answer to their troubles.
In the vineyard, Melon de Bourgogne buds early and vigorously, meaning that, even in the event of spring frosts, a second budding is still capable of producing a reasonable yield. Its major vulnerability is its susceptibility to mildew, though this affliction is less likely in the cool climate.
The variety has naturally high 

acidity

, often with a lighter body. The best wines show apple and citrus flavours, with underlying mineral notes. A saltiness can sometimes be identified in the wine, suggestive of the region's maritime geography.
General Style of Melon de Bourgogne:
– Lighter in body
– Primary flavours include lime, green apple, pear and bread dough
– High acidity with a mineral body
-Pairs well with seafood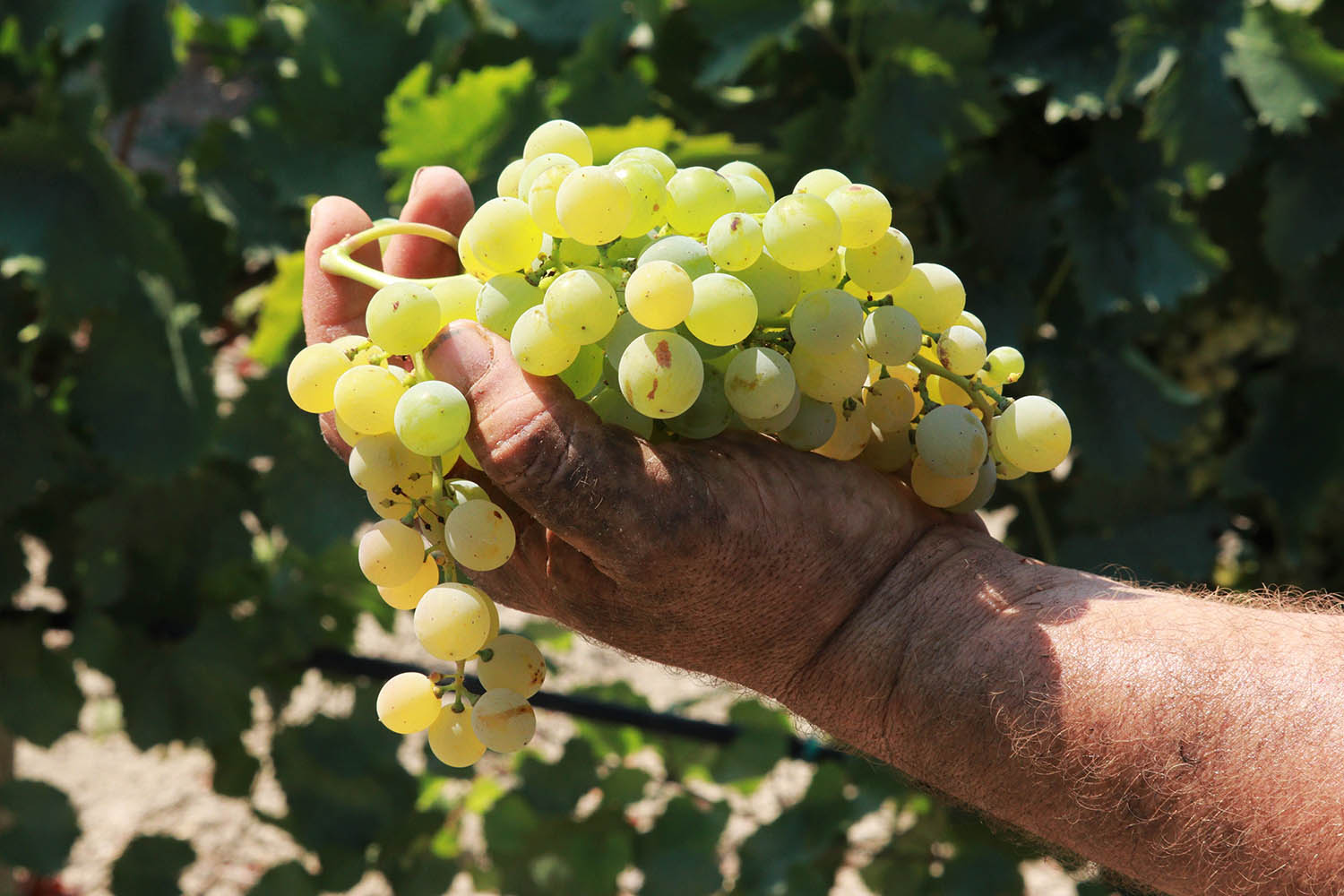 Grillo
Grillo
 is a 

Sicilian

 white grape variety most famous for its role in the island's fortified 

Marsala

 wines. It is still widely planted in Sicily despite Marsala's fall from fashion, and is now used most commonly in a variety of still white wines, both 

varietal

 and blended.
There is some debate as to the origins of Grillo, as its earliest mention comes as recently as the mid-19th Century. Some believe that the variety is native to Sicily, suggesting it is the progeny of
 

Catarratto

 

and

 

Muscat of Alexandria. Others have hypothesized that it was brought to the island from the southern Italian region of

 

Puglia. There is even some evidence to suggest that this was the variety in the Roman wine Mamertino, a particular favourite of Julius Caesar.
As the focus has shifted from quantity to quality, Sicilian producers are beginning to revisit and replant Grillo, particularly as viticultural and vinicultural techniques have improved. Winemakers are now able to control 

thiols

 more easily, giving Grillo wines with more pleasant, fruit-driven aromas rather than the rather more earthy styles that were previously available. 
Grillo, when vinified to a high standard, makes a fresh, light white wine with nutty, fruit-driven flavours that include lemon and apple.
General Style of Grillo:
– Floral and herbal aroma
– Primary flavours include grapefruit, citrus blossom, thyme, and saline
– Major component of Sicily's fortified flagship wine: Marsala
Beichun
Beichun is a hybrid of wild grapes from Jilin Province in China and Muscat from Xinjiang. 

The 

hybrid

 was 

crossed

 in 1954 at the Northern Chinese Viticultural Institute near Beijing with the participation of German experts. Other varieties with the same parents were Beimei, Beihong and Beiquan.
A unique variety with high sugar levels only grown in Xinjiang, t

he late-maturing, high-yielding vine is susceptible to both 

powdery mildews

, but resistant to 

drought

 and 

frost

.
Beichun produces full-bodied yet elegant wine in most vintages, with strong scent of strawberry and floral note, particularly rose. The wine is exquisitely sumptuous in complexity with strong tannins.
General Style of Beichun:
– Floral aroma
– Full-bodied yet elegant in style
– Strong tannins which make the wine pair well with gamey meats
Rkatsiteli
Rkatsiteli is an ancient pale-skinned grape variety originating from Georgia – one of the oldest (if not the oldest) wine-producing regions on earth. Thought to have been cultivated there for several millennia, the variety remains Georgia's most popular white wine grape variety even today.
Across the Black Sea from Georgia, Rkatsiteli also plays a significant role in various former Soviet-aligned countries. In Ukraine and Bulgaria, it holds the number one spot among white wine varieties, more widely planted than any other, and it also has a respectable presence in Romania and Moldova. Armenia, Georgia's southern neighbour, also has a considerable acreage of Rkatsiteli. 
There are three key reasons for Rkatsiteli's popularity in the Caucasus (the geographical region that connects Europe and Asia) and Eastern Europe. Firstly is the variety's strong resistance to cold winter weather conditions. Secondly is its ability to retain good acidity, even in the hottest summers. Thirdly, is its versatility; its balance of sugars and acids makes it suitable for use in table wines, sparkling wines, sweet wines, fortified wines and brandy.
It was introduced to China in 1956 and yields good sugar level with high natural acidity. This variety produces sparkling wines and noticeably acidic but balanced white wines. Typical Rkatsiteli is crisp with hints of apple and minerals on the palate.
General Style of Rkatsiteli:
– Light-bodied
– Primary flavours include pineapple, lime, tarragon and fennel
– Very high acidity
– 
Rkatsiteli pairs excellently with Lebanese, Turkish and even Indian cuisines including spiced meats, aromatic rice, lentils, bean dip, and smoked eggplant
We are always on the lookout for new, exotic and fascinating grape varietals so stay tuned to our next edition of 'New Grapes in Town'!