Weingut Judith Beck
Austria | Burgenland, Gols
Judith is a true force of nature.  Focused on her biodynamic philosophy and uncompromising in the pursuit of quality, her creations are a true representation of grape, place and vintage.  
The Judith Beck estate is based in the Burgenland commune of Gols, in the Neusiedlersee region, on the eastern – and warmest — side of the Lake Neusiedl.

Gols is part of the larger Burgenland region in easternmost Austria, which enjoys a very warm climate defined by the Pannonian Plain to the east and the Lake. Lake Neusiedl's depth is only 1.5 meters and its water temperature can reach 32 degrees celsius. in the summer. Indeed, this is Austria's warmest wine growing area, the first to harvest, and the production centre of its finest full-bodied, dry red wines.
15 Hectares of Vines, Decades of Working with Nature
The Beck story started in 1976 when her parents Matthias and Christine took over the family farm on the edge of Lake Neusiedlersee.
Although the Beck family had been farming crops sustainably in Burgenland for decades, it was in 1976 that they decided to increase their plantings of vines and focus exclusively on making wine.
Judith Beck made her first vintage in 2001 and in 2004 she assumed full control of the winery.
After graduating from the Klosterneuburg Viniculture College, Judith gained international experience at world-renowned wineries, including Chateau Cos d'Estournel in Bordeaux, Braida in Piedmont and Errazuriz in Chile. Managing the family winery comes naturally to Judith who has an innate "sixth-sense" for the regional varieties Zweigelt, Blaufrankisch and St. Laurent.
Judith Beck – The Star of The Show
Mention the name Judith Beck in Austria and almost everyone will tell you she's the upcoming queen of biodynamics in this breathtaking region.
Judith trained at Château Cos d'Estournel in Bordeaux, Braida in Piedmont and Errazuriz in Chile and has seen many different approaches to winemaking and farming. Since moving home to Gols she has focused entirely on sustainable agriculture and this has eventually led her to make natural wines. She found that biodynamics gave her healthier soils, vines, grapes and eventually, the wines stopped needing additions of any sort. Her experiences all over the globe have led her to believe that because of life and health in her vineyards, she is able to realize terroir-driven, emotional and lively wines often with no intervention whatsoever.
Her style relies on the ideas of Rudolf Steiner, an Austrian philosopher who came to prominence in the late 19th century with revolutionary views on education and biodynamic agriculture. In a winemaking context, that translates to holistic methods such as applying biological humus as fertiliser, being guided by moon cycles, and employing manual techniques.
Judith has also always been passionate about traditional Austrian varieties: Blaufränkisch, Saint Laurent and Neuberger to name a few. "Saint Laurent and Blaufränkisch are two very interesting grape varieties, both are complex to vinify and complicated to work with, but of fabulous potential" she says. She makes incredibly articulate versions of these grapes, with her 'Bambule' labelled wines exploring their wild side. Judith is an impressively calm, thoughtful person and that sense of relaxation seems to transmit itself into her wines, which possess a lightness of touch not always apparent in this region.
The Beck winery is a member of the Pannobile Association, which represents the winemakers of the region and emphasises their reliance on local grapes. It's also part of '11 Frauen und ihre Weine' (11 Women and their Wines) – evidence that Judith Beck is a driving force for women in the industry, as well as for her home area.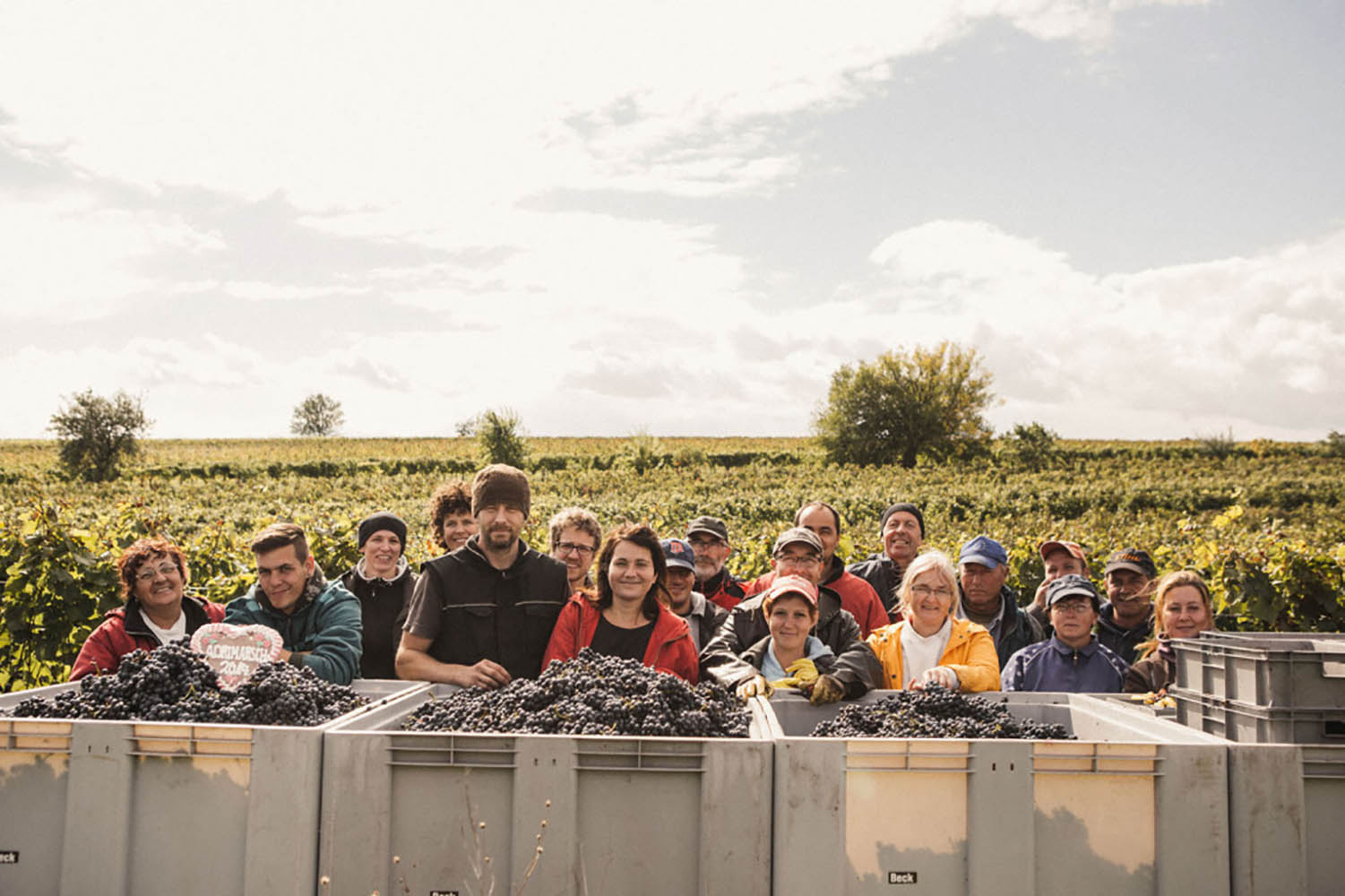 Viticulture in Weingut Judith Beck
The winery owns a total of 15 hectares of vines in Gols, with holdings in the vineyard sites of Altenberg, Gabarinza, Salzberg and Schafleiten. 85% of the area is planted to red varieties – Blauer Zweigelt, Blaufrankisch, St. Laurent, Pinot Noir and Merlot, with the remaining 15% planted to white varieties – Welschriesling, Pinot Blanc and Chardonnay. In addition, grapes are brought in from another 5 hectares in the communes of Apetlon, Halbturn and Winden, and used in the production of the basic red wines. Vines are planted at high densities of up to 7,000 vines per hectare to limit yields and ensure ripe fruit at harvest time. Soils range from loam and clay on the lower vineyards to limestone, higher up on the ridges. All grapes are hand-harvested. 
The Becks built a new modern, functional winery and ageing cellar in 2005. It allows Judith to manipulate her wines as little as possible in the vinification process, resulting in wines that show the pure and vivid expression of the varietal and the unique vintage character. Judith Beck's wines can be defined as elegant, fruit-forward and complex expressions of her vineyards.
Judith Beck's Creations
Beck's focus is on the vine growing. Biodynamics is an art of healing which takes advantage of the holistic curativeness of nature. The aim, to strengthen the natural resistance of the plant.
"We encourage the formation of humus, as a basis of healthy soils, by regularly applying cattle manure which we prepare ourselves and by cultivating grass between the rows. Herbal teas (such as stinging nettle, chamomile, field horsetail …) and biodynamic field sprays such as horn manure and horn silica are used under the consideration of moon rhythms; their purpose being to strengthen resistance and further the physiological ripeness of grapes."
The goal is to make authentic wines with an individual character while at the same time maintaining healthy soil and a balanced ecosystem. Part of this is also the absence of yeasts. Fermentation of the red wines starts spontaneously (without the help of selected yeasts) in stainless steel tanks or in open wooden casks. Part of the red wine matures in large wooden barrels (1000 to 2000 litres). Judith uses barrels made of third generation acacia wood. This larger format accentuates the clear fruit of Zweigelt and Blaufränkisch; and thus is the ideal vessel. "We believe that wine needs to breathe in order to develop thoroughly; that's the reason why we do not use stainless steel tanks for maturation at all."
The estate produces a range of wines, from
 

a delicate white

 

that is fruity and fresh, as is typical of the Weissburgunder grape – the name Austrians give to Pinot Blanc – and seen by many as an alternative to drier offerings from Alsace.
The
 

Zweigelt

 

is much lighter than many Austrian reds, with fruits and spices coming to the fore and making it an excellent accompaniment for red meat. Unlike many Austrian winemakers, Judith doesn't use heavily toasted oak barrels to create rich and powerful reds, so fruit and spice also dominate

 

her Blaufränkisch, which is made from a single grape.
Check out our favourites from Judith Beck below!